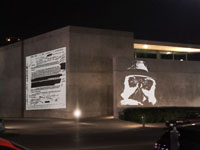 First Night in Grand Center
The Pulitzer Foundation for the Arts
December 31, 2004

"Marshall McLuhan Meets Josephine Baker" is a video installation about information culture and loss of identity. This video collage is constructed out of images and text from Marshall McLuhan's groundbreaking work "The Mechanical Bride" and out of documents from the Josephine Baker FBI file. Together McLuhan's book and the Baker "dossier" tell a story of art, politics, race, and media power that reverberates with some of the most important themes of 20th-century America.

"The Mechanical Bride", now recognized as a book that predicted the cultural and social dislocation of the information age, was conceived and partially drafted just a short walk from St. Louis's Grand Center. Josephine Baker's 400-page surveillance dossier is prefaced again and again with the words "she was born in St. Louis Missouri in 1906, daughter of a St. Louis washer woman".

This twenty-five minute looping video is produced by Paul Guzzardo and Zlatko Cosic, and will be projected on the Pulitzer Foundation.




Projections - The Pulitzer Foundation for the Arts
:: Marshall McLuhan Meets Josephine Baker
:: Mechanical Bride - projection 1
:: Josephine Baker - projection 1
:: Josephine Baker - projection 2




Video for projections
:: Mechanical Bride
:: JEH - binoculars
:: JEH - game board
:: JEH - lips
:: JB - files