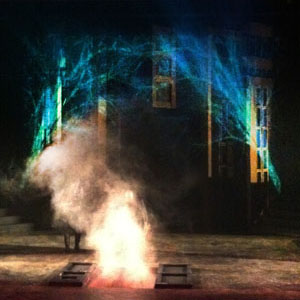 MACBETH by William Shakespeare
multimedia theater performance

Macbeth charts the bloody rise to power and the tragic downfall of the Thane of Glamis. Returning from battle, Macbeth is told by prophecy that he will someday be king, though his heirs will not inherit the throne. Ambition and doubt settle into his heart as he allows himself to be persuaded and directed by his ambitious wife, who counsels her husband that the murder of King Duncan is the surest way to achieve his foretold destiny.




:: Macbeth [wmv]
:: Tree animation [wmv] :: [QT]
:: Photos [1] :: [2] :: [3] :: [4] :: [5]
:: Photos [6] :: [7] :: [8] :: [9] :: [10]




Directed by Michelle Rebollo
Set Design by Darren Thompson
Music by John Consiglio
Projections Design and Videos by Zlatko Ćosić


St. Louis Community College
Meramec Theatre
April 17-20, 2013, 7:30pm
April 21, 2013, 2pm

www.stlcc.edu/mc/theatre/shows