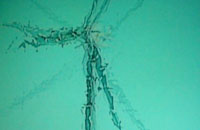 ANARCHITEXTURE

by John Consiglio and Zlatko Cosic

Anarchy + Architecture + Texture
The word anarchy applies because what we are talking about is a nonhierarchical structure meaning no one thing takes precedent over any other thing. In truth however, texture does sort of take center stage which is the third part of the word. Architecture has to do with the structuring of something but the structure is anarchic, fluid, mercurial.




ANARCHITEXTURE (wmv, 25:00)




Webster University
Winifred Moore Auditorium, St. Louis
April 26, 2008
with screening of 60x60 Project: Midwest Minutes 2007
LIVE AUDIO-VIDEO PERFORMANCE