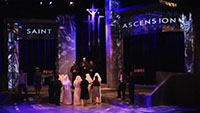 1959 SAINT ASCENSION
The New Musical

1959 Saint Ascension, a new musical by Emmy Award winning director Gary Paben and music by Donna Perrino, Saint Louis Symphony Soloist, will have its Premier Performance at St. Louis Community College Meramec.

The story, set in a hospital, unravels the relationships of the people left behind as loved ones experience an endless sleep. Romantic couples, mystery, guilt, magic and the unexpected punctuate the drama. As we slide out of sadness into song and dance. The music becomes a beacon as the light is revealed in all of us.




1959 St. Ascension (live) [wmv] :: [QT]




1959 St. Ascension (projection design) [wmv] :: [QT]




:: Book & Lyrics by Gary Paben
:: Music by Donna Perrino
:: Directed by Gary Paben and Michelle Rebollo
:: Set Design by Darren Thompson
:: Projection Design by Zlatko Ćosić




1959 SAINT ASCENSION
The New Musical
Meramec Theatre
St. Louis Community College
October 1- 4, 2014 at 7:30 p.m.
and October 5, 2014 at 2 p.m